Barstool Sports' Dave Portnoy 'Knew' Bitcoin Would Hit $23,000
Davey Day Trader saw Bitcoin's price rise from way off, he claims. But who wouldn't?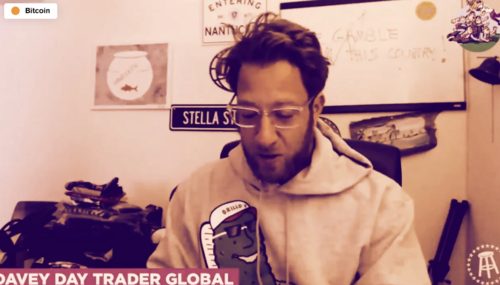 In brief
Dave Portnoy saw Bitcoin's $23,000 price coming from a long way off.
Okay, not that long. Only by a day or two.
He is happy that Bitcoiners are happy.
Dave Portnoy knew that Bitcoin would breach $23,000 as soon as it hit $20,000, he said in a video on Twitter today.
"There is no group of people, all right, who crawl into my asshole and just probe," said Portnoy, the CEO of Barstool Sports, "than the Bitcoin people."
"They have every right, right now, to be dancing and gloating and doing the lambada," said Portnoy, in reference to their celebrations that Bitcoin has broken its all-time high and hit $23,000.
Create your own custom 100% unique NFT for your friends and family, or keep them for yourself. If you're looking for the perfect holiday gift look no further.
"When you win, when you win, and they're fucking winning on a big level right now," he said, pointing to Bitcoin superfans like crypto podcaster Anthony "Pomp" Pompliano and "ParabolicTrav," a self-described "Slave to #Bitcoin" who dances on the graves of Bitcoin cynics each day.
You could say one of those graves has an epitaph etched for Portnoy.
Back in August, Davey Day Trader told his legion of Twitter followers that he'd sunk $1 million into Bitcoin when the cryptocurrency was still only worth around $11,500. (He also put around $300,000 in Chainlink, he said at the time.) Then, almost as quickly as he'd jumped in, Portnoy jumped out: he dumped all his crypto holdings two weeks later, after losing "25k" in his experiment.
Bitcoiners relentlessly taunted Portnoy on Twitter, chastising him for his "weak hands." And they've been gloating ever since. Had Portnoy decided to HODL, El Presidente would have doubled his money just four months later.

But no matter! Portnoy isn't letting the loss of potential gains in excess of $1 million keep him down. In the video, he switches on some Brazilian dance music and mimics those who taunt him with their success.
"$12,000, $13,000, $15,000, $20,000, $21,000, $23,000," he said; at each point Bitcoiners have celebrated.
"I knew as soon as it hit $20,000, it was gonna go like that," said Portnoy, as he holds out his fist, then smacks it with his other hand pointed upward, just like Bitcoin's price. "The lambada was going to be playing nonstop," he said.
This is what the lambada sounds like:
"It's a great time to be a Bitcoiner," said Portnoy.
Even after he gave up trading crypto, Portnoy later said he loved the community and that his "heart is in crypto." If only you'd followed your heart since then, eh Davey?

SeamanDan