BTC whales took profits while others were chasing highs
Experts from the OKEx team analyzed BTC / USDT trading patterns between August and November 2020 and found that retail traders were losing out to whales.
Initial parameters
In a published study, analysts at OKEx decided to study characteristics such as the size of trading positions and the direction of orders (buy or sell). Using these parameters, they tried to compare how different categories of market participants reacted to the Bitcoin bull run in August-November 2020.
Do you want to always be aware of the latest cryptocurrency market news? Join the discussion in our Telegram channel – and you will find out everything!
Bitcoin traders have been divided into four groups based on their trading volumes:
<0.5 BTC
0.5 <2 BTC
2 <5 BTC
10+ BTC
According to OKEx experts, these categories generally correspond to the four types of participants in the crypto market – retail traders, professional traders, large players (whales) and institutional.
So what happened?
According to data obtained in cooperation with the analytical blockchain company Kaiko, retail traders actively bought the currency on the rise until BTC reached about $ 15,000. After that, retailers joined the buyers.
Until the end of November, Bitcoin purchases prevailed in the "less than 2 BTC" category. However, players who moved positions for amounts exceeding 2 BTC were more likely to act as sellers. The charts below illustrate this trend: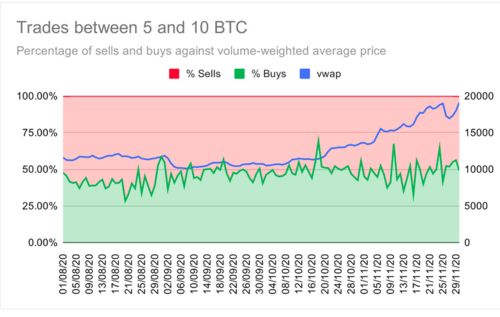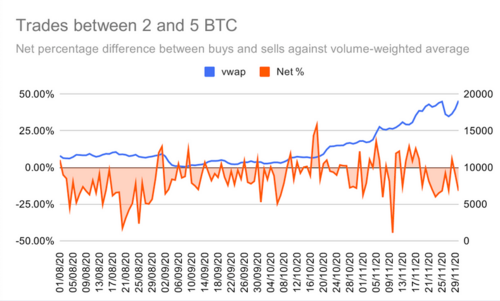 However, it is noteworthy that at the end of November, the holders of positions in the "2+ BTC" category again began to demonstrate interest in buying bitcoin. These purchases came amid an aggressive market correction that began around Thanksgiving – when smaller traders were wary of returning to the market.
SeamanDan