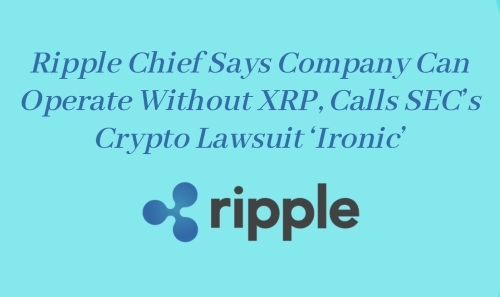 Ripple Chief Says Company Can Operate Without XRP, Calls SEC's Crypto Lawsuit 'Ironic'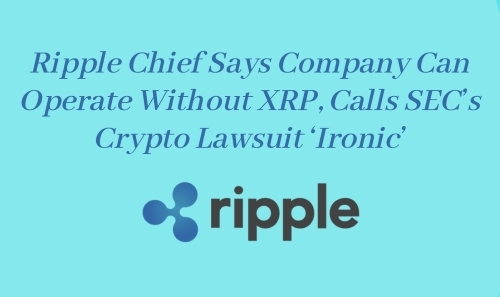 Article by The Daily Hodl
Ripple's chief executive Brad Garlinghouse says the fintech company could continue without XRP if need be, as the firm's legal battle with the U.S. Securities and Exchange Commission (SEC) continues.
In a new interview with CNN, Garlinghouse says Ripple can conceivably march on without its XRP-based settlement platform if its case with the SEC over the company's alleged illegal sale of the crypto asset goes south.
"We could do that. We've always thought about our product as, 'How do we solve a customer's problem first and foremost?' And I think that has served our growth. It's a reason why we have seen so much activity now, billions and billions of dollars of transactions across Ripplenet, our network for payments."
The CEO adds that the digital payments giant has continued to do business, particularly business outside of the US, even as it faces its lawsuit with the SEC.
"The good news for Ripple is we've continued to sign customer we've signed over 20 new financial institutions around the world as customers since the SEC filed their lawsuit and I think we're going to see the network grow very rapidly in non-US customers."
Garlinghouse says the lawsuit is "ironic" given that the SEC claims Ripple illegally sold XRP as an unregistered security, while simultaneously stating that the courts will ultimately determine the status of the crypto asset.
"I find a certain irony that the SEC would bring a lawsuit against us because what they're saying is not just that we should have known and we've acted in bad faith when the SEC themselves haven't really said, well they know for sure that XRP is a security.

In their own court filings, they said that the court will determine that, which of course, brings a contradiction that if the court's going to determine that, how could I personally have known that the SEC would view XRP as a security."
Article by The Daily Hodl

SeamanDan